Here are the total of all the improvements that I have done to my FEHP.
Installed Gas Pods which I had on my CMAX, don't know if they made a difference. Raised tire pressure to 44 psi., the max tire pressure on the tire, they were 32psi according to my digital pressure gauge. I would expect 1/2 mile range gain or mpg in ICE Mode. I use EV Now Mode around town and EV later on trips.
I have been noticing that if you start the ICE to increase acceleration it will stay on until it reaches 128*F like the CMAX Hybrid did. It took about .8 miles to make it happen.
Installed Top Grill Cover and ended up taping all the way around the edge to seal it off to get the WT above 215*F
I installed the Grill Cover for the bottom and it blocks the sensors so I had to hole saw 1.25" holes for them to work. I hope these pics give you ideas for what can be done. It could take awhile to determine what kind of range improvement I get. I hope to install wheel covers shortly too. I'm using Velcro to fasten bottom Grill Cover so they can be easily removed. Screwed on the top Grill Cover because it doesn't need to be removed. Painted the backside of Grill Cover so letters look better and last longer.
Paul
To get the OT to work properly I drilled a 3/4" hole. I used a fountain pump 3/4" adapter that I screwed into a 3/4" hole, I will see how it works. It looks like I gained 2 miles in range and mpg. If you keep your car in a garage during the Winter the Grill Covers will keep your ICE, Trans/motors warmer and the inverter also to improve your range more.
Here are some pics of wheel covers that I'm installing. Backside of wheel with aluminum plug copper silicon rubber applied ready to install.
showing backside of wheel cover with 1/4-20x 2" screw, 1" plastic spacer and fender washer.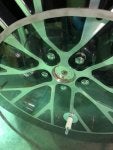 Wheel cover installed.
1/4" plastic screw out toward edge to keep wheel cover from spinning when stopping hard with the brakes. Wheel Covers add 2 miles range and mpg.
I use Premium to improve mpg's by 1-2 mpg.
For EV Mode you should gain 4 miles and ICE mileage should improve 6 mpg.
Paul