2020 Escape SE I3 & 2020 Titanium Hybrid
If you've ever driven an escape with the 12" cluster you know how cool it is, for instance, switching to ECO mode gives a calm green display, switching to sport mode gives racing style gauges, to be fair, there's no information the 12" cluster provides that the base model cluster doesn't, but it is able to provide more information at one time, for instance, with adaptive cruise, it is nice to have the forward situation display without having to select it in a menu.
For me, the hardest part was actually finding the cluster, I ordered it from one junkyard, and they had wrapped it poorly and it came with cluster mask plastic cracked, I tried to order the mask from Ford, but it's not sold separately for the digital cluster. I ordered it from another junkyard and they sent me the wrong part. Seems good help is hard to find these days…
Where to find it:
1. A local wrecking yard with a 2020 escape titanium (You need a GAS model!)
2. Ebay
3. You can try the national used parts database here:
Car-Part.com--Used Auto Parts Market
Select 2020 > Ford Escape > speedometer >
(cluster), MPH, (AT), High series cluster, digital, manual shift
or
(cluster), MPH, (AT), High series cluster, digital, w/o manual shift
You can also try other options as the clusters are often mislabeled. In theory there is also a 6" cluster a so called, "High Series Analog" but I've only seen that on Lincoln corsair.
4. LKQ online
Note: You will need a forscan adapter that supports MSCAN
Parts Required:
Instrument Cluster (High Series Digital 12"): LJ6T-10849-DEK
Note: I am not sure if a new cluster will come with the firmware already installed so it may be best to get a used unit.
Note 2: To program the correct mileage via forscan you will need to purchase a cluster with lower mileage than the vehicle you're installing it in. Forscan only increases mileage, it does not decrease mileage!
Basic Steps:
1. Connect Forscan and Download your existing Asbuilt from your original cluster.
2. Note your Mileage in Kilometer(Even for USA) from the Forscan Log
3. Remove Sync 3 Screen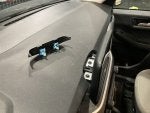 4. Partially Remove The Sync 3 Button Trim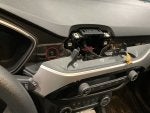 5. Remove Cluster Surround Trim
NOTE: It is best to remove the cluster surround trim and the upper column trim together as one piece, the plastic is
very thin
where the connection is made. The upper Column cover has no screws and simply pops off.
NOTE 2: The left driver's side vent is intended to come out with the cluster trim, however mine was stuck to the ducting, I ended up unclipping from the cluster trim it with a pick and removing the parts separately but reassembled them before reinstalling.
6. Install the new cluster and Program your asbuilt and mileage in KM(KM is more accurate than miles for this case.)